All About Happy Kids
Happy Kids was formed in September 2004 in a classroom, within The Winchcombe School, offering childcare for children aged two to school entry age. More than 10 years later, after several moves within the school and a relocation a few yards down the road, Happy Kids continues to operate independently, catering for funded children and offering as few or as many hours as required between the hours of 9am and 3pm. We also offer a wraparound service for The Winchcombe School, meaning we collect and drop of children who attend the school's nursery. This allows parents to access 9am till 3pm childcare and supports partnership working with the school and parents.
Here at Happy Kids we are proud of our high calibre of staff, with qualifications ranging from a level 3 in childcare, up to Early Years Teacher Status. All staff hold a current Paediatric First Aid qualification and have had DBS checks. Each staff member acts as a Key Person for the children attending the setting and are responsible for supporting them with transitions into the setting. Practitioners observe and plan for children, ensuring their individual needs and interests are met through free flow play. Our policy of free flow provision makes full use of our indoor and outdoor environment, ensuring children have a choice come rain or shine.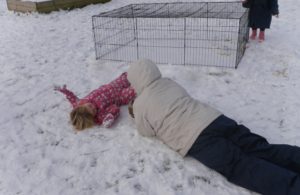 Location:
Happy Kids Preschool is located within the grounds of The Winchcombe School, on Maple Crescent, Newbury.